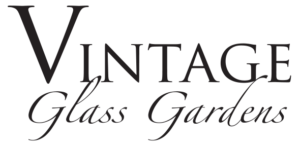 Please check back as additional shows will be added throughout the seasons.
---
May 2017
King County Master Gardeners Sale
Friday May 5th  4pm-8pm
Saturday May 6th  9am-5pm
Center for Urban Horticulture
UW Botanical Gardens
3501 NE 41st Street
Seattle, 98105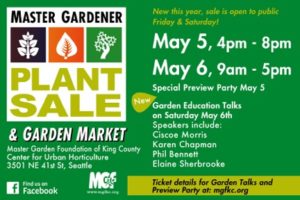 Normandy Park Annual Private Garden Sale
Our 23rd year in this location and this year just in time for Mother's Day! This sale will include our glass blooms and buds, birdbaths, silver service birdhouses and signs, perennials, forged iron plant stakes and metal work, glass mushrooms and various other items that we typically don't have space to show in the confines of a booth space. You are sure to find a new treasure for you garden and a special gift for Mother's Day.
Friday May 12th 9am-5pm
Saturday May 13th 9am-4pm
Sunday May 14 Mother's Day – Closed
19220 Normandy Park Drive SW
Normandy Park, WA 98166

---
June 2017
The Secret Gardens of Lake Forest Park Garden Fair
Saturday June 17th 9am-4pm
Lake Forest Park Town Center – Lower Level
17171 Bothell Way NE
Lake Forest Park, WA 98155
Find us on the lower level next to the escalator
---
July 2017
Wedgwood Arts Festival
Saturday July 8th 10am-5pm
Sunday July 9th 10am-5pm
Our Lady of the Lake Parish and School
Corner of 35th Ave NE & NE 89th St
Seattle,WA 98115
---
August 2017
The Bellevue Botanical Garden
"Art in the Garden"
Fabulous juried show showcasing artists displaying work amongst the beautiful gardens. A lovely venue, so plan a day out! Grab your garden friends meet for breakfast or lunch head to the gardens!
Saturday August 26th 10am-5pm
Sunday August 27th 10am-5pm
Bellevue Botanical Garden
12001 Main Street
Bellevue, WA 98005

---
September 16th – October 15th 2017
City People's Garden Art Show
City People's Garden Center Hours
Mondays – Fridays 9:30am – 6:00pm
Saturdays 9:00am – 6:00pm
Sundays 10:00am – 6:00pm  
2939 E. Madison St
Seattle, WA 98112
---
October 2017
Tacoma Holiday Food and Gift Show
Thursday October 19th 10am-8pm
Friday October 20th 10am-8pm
Saturday October 21st 10am-8pm
Sunday October 22nd 10am-6pm
Tacoma Dome
2727 E D Street
Tacoma, WA 98421
Booths 123-125
(Dome 1st row to the right as you enter)
Art and Craft Show
(Presented by P.E.O., A Philanthropic Education Organization)
Friday October 27th 10am – 5:30pm
Saturday October 28th 10am – 5:30pm  
Duvall Visitors Center
15619 Main Street Northeast
Duvall, WA  98019
---
November 2017
Olympia High School
Antique and Craft BEARzaar
Saturday November 18th 8am – 4pm
Olympia High School
1302 North Street
Olympia, WA  98501
(Gym – Space #539)
---
January 2018
Tacoma Home and Garden Show
Unable to attend due to a family illness.
Please visit us in two weeks at Northwest Flower and Garden, Feb 7th-11th.
Thursday January 25th 11am-7pm
Friday January 26th 11am-7pm
Saturday January 27th 11am-7pm
Sunday January 28th 11am-5pm
Tacoma Dome
2727 E D Street
Tacoma, WA  98421
Booths 729-731
---
February 2018
Northwest Flower and Garden Show
Wednesday February 7th 9am-8pm
Thursday February 8th 9am-8pm
Friday February 9th 9am-8pm
Saturday February 10th 9am-8pm
Sunday February 11th 9am-7pm
Seattle Convention Center
705 Pike Street
Seattle, WA 98101
Booth 311
---
SaveSave
SaveSave
SaveSaveSaveSaveSaveSave
SaveSave
SaveSave